Safety Bollard Installation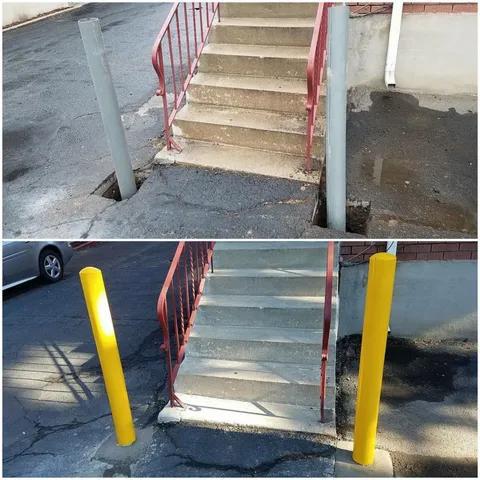 To protect buildings and to keep pedestrians safe, many Salt Lake City property owners opt to get safety bollard installation. Rely on WM Asphalt for quality safety bollard installation at a fair price. WM Asphalt is Salt Lake City's top choice for asphalt maintenance and repair, as well as installation of concrete parking blocks, drain boxes and other structures to keep your asphalt in the best shape possible.
What Are Safety Bollards?
Safety bollards are steel posts that are usually filled with concrete. Not all bollards are also filled with concrete, but if they aren't, they will not provide as much resistance to impact.
Bollards are often painted a bright yellow to make them more noticeable to motorists. They are available in different sizes, but most are between 30 and 48 inches high. Because of their height and color, bollards are more easily noticed by motorists than are concrete parking blocks.
While most safety bollards are yellow, not all are. Yellow bollards may have black striping or black caps on them and are often found in parking lots and in industrial areas. Bollards in outdoor malls and other architecturally landscaped commercial areas are sometimes more decorative and painted black. Some are concrete, and some are stainless steel. It can depend on your budget, needs and the look you prefer.
How Does WM Asphalt Install Bollards?
Regardless of what they look like, bollards are intended to increase safety. With bollard installation, you must consider whether the property owner or manager's goal is to protect property, buildings, other cars or pedestrians. Once this is determined, it helps us installers decide how far apart to locate them.
Bollards can be installed in concrete, asphalt or earth. New bollards must be set in concrete for strength, so we must first dig a hole to pour the concrete. If the bollards are going into an area that is already paved over, we must first cut through the pavement.
Bollard Repair in Salt Lake City
Oftentimes, bollards are all that stand between an oncoming car and your customers, a family out for a walk, or a building. It is likely that at some point, you have seen some damaged bollards. Some are merely leaning, making them stand out from the others, while some are bent almost to the ground. These are bollards that have done their job — stopped a vehicle before it struck an object or person.
WM Asphalt provides bollard repair to Salt Lake City customers who need to ensure safety on their property. While some bollards can be returned to their once-upright position, many have to be replaced. Replacing a single bollard is a fairly straightforward job, however.
If your bollards are upright and intact but dinged, dented or scraped, we can make them look nice again. Rely on WM Asphalt of Salt Lake City for all your asphalt parking lot and driveway maintenance, repair and sealing needs.